Home CornholeEmbroidery / Monogramming Imprinting QuiltingSchools / Teams ChildrenFundraisersCustomizingOrderingContact AMD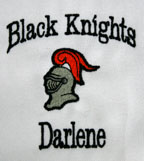 Schools and Teams
Active parent, coach or teacher? AMD Impression, Inc. can be of service to you. We can monogram your initials on book bags or stadium blankets. Encourage school spirit by embroidering your mascot on door prizes or jerseys. The sky is the limit.
Do not hesitate to call (440) 564-1296, or E-mail us at sales@amdimpressions.com We look forward to hearing from you.