Home CornholeEmbroidery / Monogramming Imprinting QuiltingSchools / Teams ChildrenFundraisersCustomizingOrderingContact AMD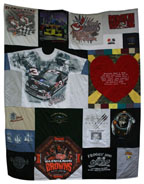 Custom
Our goal at AMD Impressions, Inc. is to cater to your ideas, your business and your marketing goals to the best of our ability as an embroider, imprinter and quilter. If you have a concept, we would like to hear from you. Perhaps we can help you cultivate your idea into a finished product.
We have an extensive library of art to work with at AMD Impressions, Inc. or if you would prefer we have a graphic designer (www.jhersh.net) that we would recommend.
Do not hesitate to call (440) 564-1296, or E-mail us at sales@amdimpressions.com We look forward to hearing from you.